After every story, I like to delve into the behind the scenes reasons of how it came to be. 
The Flirt Alert is the second "Spicy Standalone" in my trio and follows the love story between Austin Andrews, founder and CEO of Hungry Llama games and Shay Stojanović, his co-founder and best friend's Miles's sister.
Though he's wildly attracted to her, Austin can't stand Shay or anything she stands for and is horrified to learn that Miles has offered her a coveted role at their company. With this set up, my goal was to explore the event which soured Austin on Shay and how that has impacted both of their lives.
This is where things get a little personal for me. One of my close family members developed epilepsy in much the same way that Shay did. It was a profound moment that really reshaped our interactions as a unit going forward.
I experienced first-hand the behaviors some of the medicine triggered as well as the aftermath. As someone from the outside looking in, it was very frustrating when events were not recalled. Horrible insults and hurtful behavior wasn't really within their control. Not to mention the bone-chilling fear when there would be some sort of seizure incident.
Like Shay's family, my family clammed up. Wouldn't talk about it. Address it. Discuss anything having to do with it. As someone who was directly affected by the impact, it was stifling. Scary. I hated the stigma epilepsy carried, and in many ways understood why such great efforts were made to cover it up and hide it.
Bury our heads in the sand.
The thing is, times have changed so much and this, for me, was an opportunity to learn a lot more about epilepsy and the different "flavors." I did countless hours of research, not only to learn about the variables on the medical side, but also reading hundreds of stories about people who live with the varying degrees of the condition on a daily basis.
I'd like to think that I'm more empathetic now, rather than resentful. For so many years, the amount of what I have perceived as preferential treatment has been drastic. Unacceptable behavior excused and explained away – time after time after time, often to the detriment of everyone around.
I wanted to reimagine what it would be like if my heroine actually took charge. Assumed responsibility. Wasn't ashamed of a condition she has no control over. In many ways, writing about Shay has been so cathartic and healing. Being able to give Shay a normal life with her own HEA was so fulfilling.
Before I go, let's talk Austin. You first met Austin in Endless Encore, when he met with Ty & Zoey about the Rainier Foundation. Purposely, I made sure to keep Austin's age out of the book because I knew he would be a young CEO. In my "other life" I've had the great fortune to work with some of the most brilliant young minds in tech, gaming, music and media.
In many ways, Miles and Austin are a tribute to two wonderful game company founders who made an amazing game nearly fifteen years ago and I've been with them on their journey all of this time. This is a game probably most of you have played, or at least your kids or grandkids have played. I love the idea of a young entrepreneur hitting it out of the ballpark, and that is exactly what Austin and Miles do.
I've also been around so many tech "geeks" over the years, I can honestly say that imbibing the personalities (a conglomeration) into Austin and Miles was such a joy. I hope you feel the authenticity through the pages.
Finally, what would be a book without a guest appearance or two. I hope you enjoy the cameos, I know when I'm reading books by other authors, it's one of my favorite things so expect more and more of this.
Next up, The Tryst List, featuring Jordan Deveraux, the stunning tattoo artist who is seeking to break free from bad relationship patterns. Enter architect, Peter Vander, an unconventional tattooed billionaire who gives off serious Jax Teller vibes. She's just not into him, but Peter isn't a guy who backs down from a challenge. Little does he know that Jordan is going to test him beyond anything he could ever imagine…
March 14, 2024…The Tryst List.
Until next time!
KEEPING UP WITH KAYLENE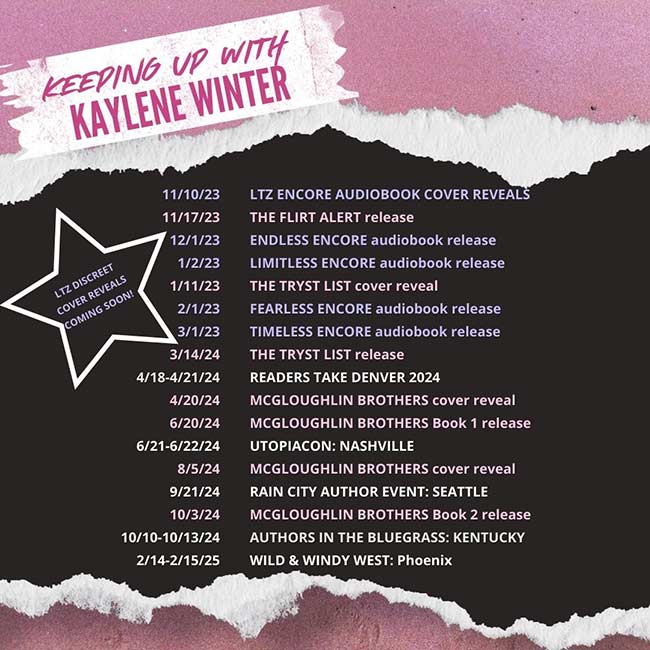 I'm going to be so many places in 2024 – here is a handy graphic so you know where to find me!
AUTHOR SPOTLIGHT
This week you have a virtual treasure trove to choose from:
Irresistible Rogue, by Jaine Diamond released yesterday, grab it now!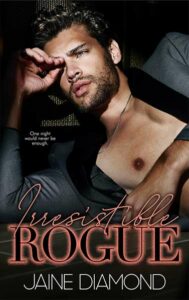 ---
Better Than Most, by Jennifer Milliken released on October 5, get it now! 
---
Bullet by Jade C. Jamison, it's FREE by clicking this link!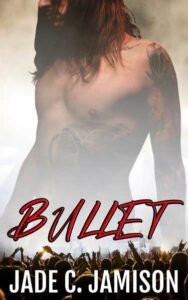 xoxoxo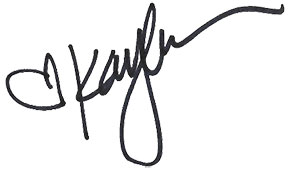 Kaylene