A very important deadline came and went in June and I want to acknowledge it before another year slips by. June 30, 2023 marked the third year anniversary of the release of ENDLESS, my first book ever published.
With the release of The Hate Date last week, I was pretty busy getting ready for the launch to properly acknowledge how grateful I am for my readers. Some of you have been with me from the very beginning and some of you are new to me over the past month or so. I don't think you have any idea how much it means to me, as an author, to know that some of my work resonates with you, entertains you and even makes you feel something deeply.
I'm evolving as a writer and will continue to evolve as I create stories. While I always lean toward the angst, sometimes I love a fun, quick love story like The Hate Date. I think books are like people – there are lots of flavors and personalities. For me, it's fun to mix things up!
Thank you to all of you for making The Hate Date release so fun and special!
HATE DATE REVIEWS
I thought I'd share just a few lines from the reviews that keep pouring in (thank you!!) because it's so awesome to know how much you love Joar & Clover! Thank you so much!!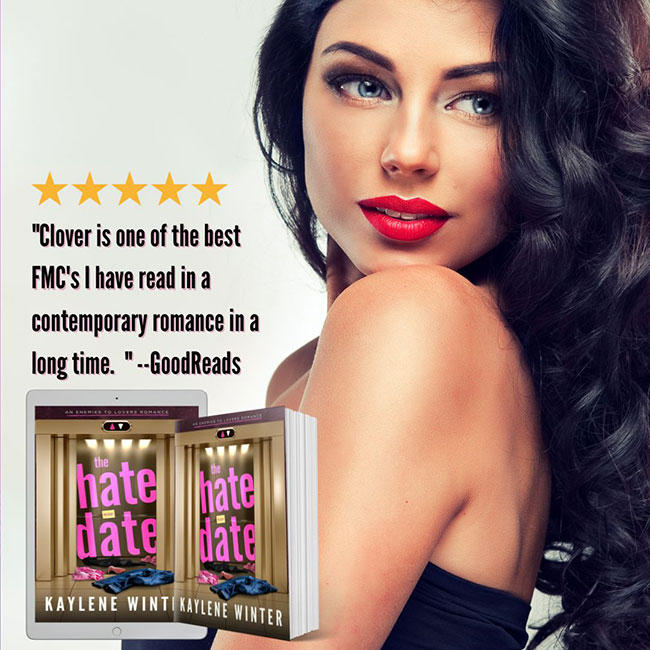 "I loved this unique plot – I'm not going to give any description – it is too good not to allow it to unfold organically! I want you to fall in love with JJ and Clover and their unforgettable journey."
"From page one, I was hooked. Joar and Clover couldn't be more opposite, but like the old saying goes, opposites attract….. Well, the fireworks from these two characters had me taking a cold shower when I finished the book!!!! ;-)" 
"Loved the storyline and characters. A beautiful standalone that has left me looking forward to more."
"Their chemistry is so hot my Kindle practically exploded, and their emotional connection grew so strong I knew they'd get that second chance Joar begged for. I cannot wait for more of this author's writing now because Clover and Joar have made me a huge fan."
"This is one of my favorite romcoms of the year without a doubt! If you enjoy a spicy, fun, romantic comedy, then I definitely recommend this book!!!"
"This was such a great story that I couldn't put down. So glad I discovered Kaylene, love all her books."
"This is truly a love story, extremely romantic and I loved it. I'm giving it five stars and highly recommend it."
AUTHOR SPOTLIGHT: Mari Carr
You guys know how much I love Mari Carr, and I want you to grab her newest release when you're through with The Hate Date!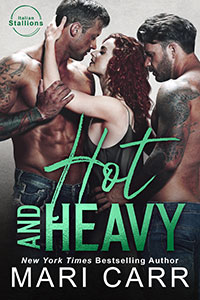 Hot & Heavy: Italian Stallions, book 5
What's better than one sexy protector? Two.
Hazel knows she's in serious trouble when her shady uncle threatens to implicate her in his crimes. When two police officers show up at her apartment, she's forced to flee Boston in the dead of night. Philadelphia feels like a big enough place to hide…until the seedy motel she's staying in burns down.
Kayden and Aldo's protector instincts rise to the surface after they spot a shivering redhead standing alone at the scene of a fire. Discovering everything she owned was destroyed, the sexy cop and charming firefighter offer her a place to stay.
None of them is able to resist their instant, scorching attraction to each other. The three give new meaning to the term "hot and heavy." Aldo and Kayden want more…hell, they want it all. But Hazel is in too deep, and as her lies begin to unravel, she's caught between a rock and a hard place.
Especially when the past catches up to her. Unless she puts her fears aside and offers Aldo and Kayden the one thing she's never given before–her trust–she stands to lose everything.
That's it for now!
Love,