Hello everyone and thank you for a wonderful release last week! Ronni and Connor's journey was tough to write, but I hope it was worth it in the end.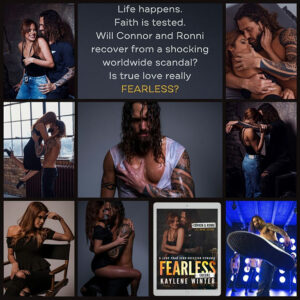 Also – my apologies for the super abrupt blast on release day. Last week was, shall we say, an exercise in trying to fit 25 hours into 24 every single day.
One of the things most people find surprising is that Ronni's story is ripped from the actual headlines. It shocks and saddens me each and every day that women and men in Hollywood are essentially forced into doing things against their will – and then must keep quiet about it or risk losing their career. Part of why I wanted to write Ronni's story is to hopefully raise awareness. Shine some light on the dark underbelly of the entertainment industry.
I've also been asked if anything like that ever happened to me when I was deep in my music promoting days. The answer is: of course.
I was super young when I started out. Not even twenty. So, one thing I tried to do was carry myself "big" at all times. Meaning, I never wanted to come across as meek or sweet. This was not only a coping mechanism but a sort of "fake it until you make it" vibe. I was adamant that I didn't just want to be a "girlfriend" or "groupie" so I tamped down the flirty vibe most of the time. After all, I wanted to be taken seriously.
Booking the very best shows at my coveted nightclub with the very best bands was a rush. Telling people no was the opposite. But, it was my job. So was bumping bands off a show when a national touring act would come through. Never a fun conversation.
I'm self-aware enough to realize the combination of my "big" attitude and telling people no sometimes led to people thinking I was stuck up. Actually, I really was just a bit awkward, unsure and inexperienced in communicating bad news. 
I'll never forget the night when a bunch of guys from a metal band I didn't book on a show they desperately wanted to open for cornered me at a different club and harassed me. Three of them surrounded me, a 5'1" woman, and taunted me for a good 10 minutes along the lines of "you think you're too good for us." "You're lucky we're in public because if we ever find you alone…" 
Oh, I knew what they were implying and I was scared. The guitar player in a band I was managing stuck by my side the rest of the night. He protected me. Walked me to my car. Told the dudes off. Needless to say, I made sure they were never booked on one of my shows again and I never went by myself to a club they were playing in ever again.
Fun fact: the guitar player's son is now an Academy-award winning documentary director!
Aside from that, most of what happened was more of a sign of behavior that was common in the 90's and which would get you cancelled immediately now. Guys had no problem openly talking about your body parts. Or groping you. Or trying to kiss you. Or disparaging you if you didn't reciprocate.
I can't tell you how many times I was called "fat ass" in the clubs after I rejected some advance. I look at pictures of myself back then and think: Damn, I was so cute. I didn't have THAT much junk in the trunk.
Alas. I'm older now and see the gaslighting for what it was.
Well, that's enough about that. Let's get on to something more fun!
WYNNE ROMAN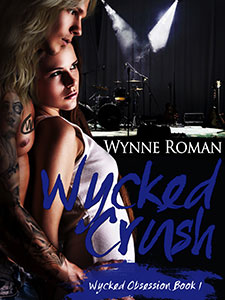 As you know, I'm not only a writer but a voracious reader. This summer, I binged Wynne Roman's Wycked Obsession series and it is AWESOME.
Let's give Wynne a little love this week. 
Wycked Crush is the first book in the series. It's recently re-edited and reformatted it, so be one of the first to read the new version.  
Also, if you'd like to stalk Wynn on Social media follow her on Instagram, Facebook and Twitter!.
Facebook: https://www.facebook.com/groups/wynneroman
Instagram: https://www.instagram.com/wynneroman 
That's all for this week!
Love,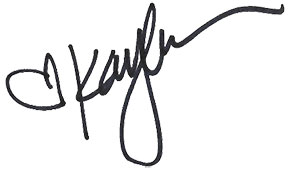 Kaylene