Hello my friends. I hope everyone had a safe and happy holiday! 
The Hate Date is out in just 2 ½ weeks, are you excited? ARC's have all been distributed and I'm really excited that people love Clover and Joar.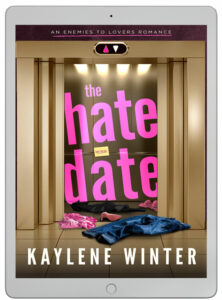 Here's a little teaser from the book. Don't forget to preorder now:
I'm cut short when my friend Pax presses his palm to my mouth. "Shush. We need to work on your game. Do you see the way dudes look at you? Every day, wherever you go, men practically worship the ground you walk on. Tell me you know this." He removes his hand. Holds my gaze until I break eye contact from the intensity of it all.
"Stop. I know you're just trying to help me, but don't lie. No one looks at me that way. Especially now that I'm pushing forty." I take a deep pull of my peachy slush.
Pax spins my stool to face him. "You're thirty-two years old. You're hot and you're going to be even hotter when this show comes out. Grow some self-esteem, woman." 
Now it's my turn to roll my eyes. "Look. Ronni gave me this role, and I'm grateful. She told me her vision: I'm the girl next door. The chick who every woman relates to yet is destined for the most epic romance. It's what the show's about."
"Do you hear yourself?" His brow furrows. "This show is your life. You've joked about it to the entire crew. What did you say your foolproof plan is?"
"First on the list is to revive my career. Hopefully this show will do it for me. Second, I'm embracing every day to the fullest. If I want to make out with someone, I'm going to do it. For the first time in my life, I'm going to learn what makes me happy. Finally, I'm never dating another guy who wears a suit." I emphasize each item on the list by holding up a finger.
He sucks in his lips, pondering. "As far as the second and third items on the list, my recommendation is you try some guys on for size, if you know what I mean." He flicks his eyes to his junk and back up at me. Waggles his eyebrows.
My drink is nearly empty and I'm feeling a good buzz. "You think I should chat up a guy and take him home with me?"
"I think you should open your eyes. See yourself how others see you. It will all fall into place." He cups my cheek with his palm. "Don't look now, but there's one hot MF checking you out. He's behind you and to the left."
Even I have enough game not to turn around and stare at him. Instead, I slide off my barstool, grab my phone and purse and point to the front of the restaurant. "I'll make a quick trip to the ladies room and have a look. Be right back."
I confidently stride past the bar toward the dining room and sneak a glance in the general direction of where Pax said the dude was sitting. 
Holy friggin' moly.
My heart stops. As do my feet.
Pax wasn't kidding. A man with tousled, longish, dark hair cropped short on the sides is buried in a menu. He fills his white T-shirt to perfection, I swear I can see each defined muscle in his arms and chest. His olive skin is smooth. He's got a square-cut jaw with a hint of stubble. As I get closer, I see he's a bit older than me from the sprinkling of silver throughout his sexy mane.
His eyes, cast down to peruse food choices, snap to mine as I walk past. They're incredible. A truly distinctive shade of blue, no—violet. 
It's like I've been zapped with a jolt of electricity.
Right to my core.
He's caught me gawking, so it's all I can do to keep my feet moving and pretend I'm not affected. This perfect specimen of a man is so completely out of my league it's not even funny. 
Then something unexpected happens.
He smiles at me. Tips his head, even.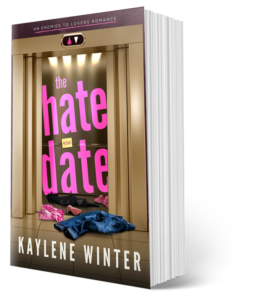 Oh, this guy's a player and I know exactly what this means. He's giving me an opening to go talk to him. My mind races with potential things to say. Funny anecdotes. Witty self-depreciating comments. I can admit the truth: I want him to do wicked things to my body right here.
Right now.
The Hate Date is exclusively in eBook on Amazon and will be available in KU – get it here.
The Hate Date paperback is going to be available at ALL Retailers!!! Please let us know if you have a particular bookstore we need to get it too. Get it here!
UPCOMING EVENTS AND KAYLENE NEWS
I'm super excited to confirm another couple of signing events! I'll be at UtopiaCon in Nashville next June and Wild & Windy West in 2025!
Meanwhile, if you're on the east coast this weekend, I'll be at RomantiConn in Trumbull, CT with a lot of amazing romance authors. Here is a link to buy tickets, I think there may be a few left and I'd love to see you!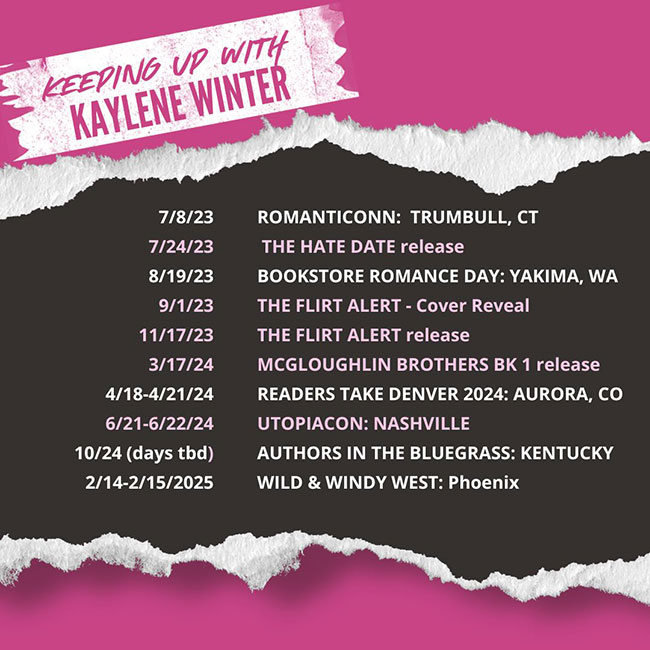 AUTHOR SPOTLIGHT: Katie Baldwin
This week I'm excited to give you a link to METALSOME HEARTS a FREE Rockstar Romance from my friend Katie Baldwin:
Jessica Walker is on the run from her ex-boyfriend. Again. A youthful flirtation with a police officer led to a year of mental and physical torment. For seven months, she lived free of his abuse, and then he found her, and things went dark very fast. The only possible hiding place is with her sister's dear friend Diego Aguilar. But Diego isn't a regular guy. He's a world-famous heavy metal guitarist. A beautifully talented man who has been Jess's Rock and Roll fantasy for years. But after her past with her ex, the last place she wants to be is around any man. Even Diego.
Diego Aguilar doesn't trust most people save the guys in his band, Metalsome, and his adopted family. But when he first sees Jess, he feels compelled to protect her. He knows from experience the pain of being brutalized, and he'll do anything to keep her safe — even if that means letting her into his heart.
xoxo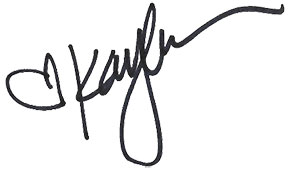 Kaylene